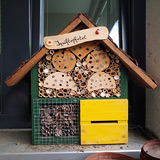 Mar 31, 2017, 7:42 PM
A few years ago I received a small insect hotel as a gift. Since then it stands on my balcony in a dry and sunny place and waits for guests. The first ones are already there.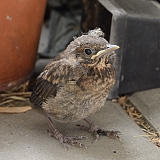 Apr 7, 2012, 7:44 PM
In March this year I had some new housemates on the balcony! Suddenly a blackbird made itself at home in the top flower pot of the IKEA flower stand. Here I show you some photos from the eggs to the fledglings ready to take off.