Vacation in Zakynthos in the Sommerakademie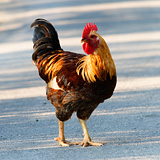 This year creative vacation was the order of the day! Since the classic beach vacation has now become too boring for us, but a summer vacation with sun and sea also has its charms, we spent two weeks on Zakynthos in the Summer Academy (SOAK). The summer academy is located in Vasilikos, a small, scattered settlement by the sea on a green headland in the east of Zakynthos.
The summer academy follows a very exciting concept. Around 100 courses in the fields of art, body harmony, dance, music, theater, photography, writing, nature and sport are offered throughout the summer. There are also special programs for children. You can choose any of these courses, there are no additional costs. When booking, you should only pay attention to which courses take place during this period.
The combination of the relaxed Greek attitude towards life and the opportunity to express one's creativity is really unique. The topics are so comprehensive that we attended almost too many courses in the first week and we had real deadline stress. But we approached the second week in a more relaxed manner.
The most exciting course was definitely snorkeling and marine biology. But since I can neither afford nor want an underwater housing for the SLR camera, I bought a waterproof compact camera before going on vacation. The choice fell on the Canon D10, which does quite well in various reviews and is also affordable. I am very satisfied with the quality of the pictures, I only had to change the white balance for the underwater photos, as they had a very blue cast.
In addition, we learned archery there, painted pictures and attended a photography course. Of course we also went for a lot of walks and took photos of fauna and flora. I even found a model through the forum of the summer academy with whom I could do a nice sunrise shoot by the sea.
We also did a night hike to the half-ruined monastery of the Holy Virgin of Skopos. The monastery is located on the Skopos mountain, which is about 500m high. From there we watched the sunrise, a very nice experience.
The vacation was truly memorable and I am not surprised that many of the vacationers were not at the summer academy for the first time.
Loading Conversation