A Grave for Rocky - The Pet Cemetery Vienna
Actually, the coffin looks like any other. But it is hardly bigger than a shoe box and not intended for a human being either. I am in the farewell room of the Pet Cemetery Vienna. The coffin stands on a black table decorated with flowers and petals. At the edge are small silver candlesticks and many tea lights.

The Pet Cemetery Vienna has been in existence since the end of 2011 and is the first on Viennese soil. Since then, more than 500 animals have been buried here and about 130 more are added each year. The park-like facility consists of circular grave fields, each of which is arranged around a tree. The cemetery has an area of about 6000 m2 and is located opposite the Central Cemetery.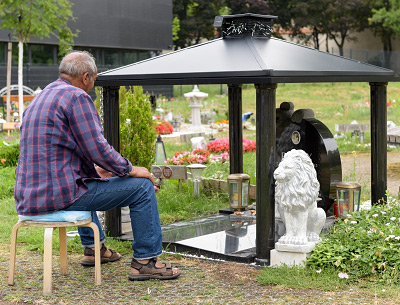 As I walk through the facility with my camera, an older man waves me over and we strike up a conversation. Slobodan is 60 years old and buried his beloved Rocky here 5 years ago. Rocky was - the name probably suggests otherwise - a sweet little Pekinese who lived to be a proud 17 years old. The grave resembles a small mausoleum and stands out clearly from the other graves. Slobodan immediately begins to tell the story. He has no family and his Rocky was like a son to him. Unfortunately, I don't understand much of what he says because he speaks quite broken German. Since Rocky is buried here, he comes almost every day to the cemetery and sits on a small folding chair in front of the grave. One can guess what this loss means to him.
In addition to earth graves, the Pet Cemetery Vienna also offers urn graves, an urn wall and a communal urn. Of course, the urn with the ashes can also be kept at home. In addition, the pet cemetery offers all the necessary services needed for a burial, from picking up the pet to grave maintenance.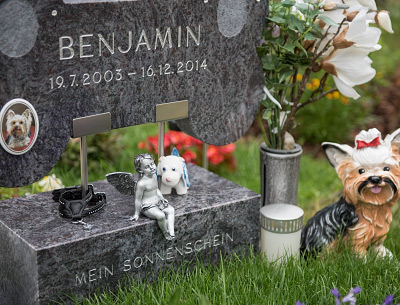 Quietly, I also look at the other graves. The love with which the graves are decorated and adorned is deeply touching. Pinwheels turn in the wind and small animal figures and little angels keep the deceased darling company. Various toys, necklaces and inscriptions with final greetings seem like a dowry for the afterlife. I have seen this kind of graves before. At the children's graves in the central cemetery.
When I first heard about the pet cemetery, I still thought it was a bit over the top. You shouldn't anthropomorphize a pet. And a funeral is a deeply human ritual. But I've since realized that there is real grief work being done here. For many people, the pet has become a full-fledged family member, and accordingly, everyone deals with the loss in their own way.
The pet cemetery is a beautiful and meaningful institution to accompany people in the loss of their pets. Our society is slowly realizing that animals are not objects, but beings with feelings. Therefore, it is only understandable to want to make the farewell dignified and create a place where people can mourn and remember in silence.
After about an hour, I pack up my camera and head home. Slobodan wipes the tears from his eyes. He is still sitting with his Rocky.
Finally, some impressions of the Pet Cemetery Vienna :
Loading Conversation